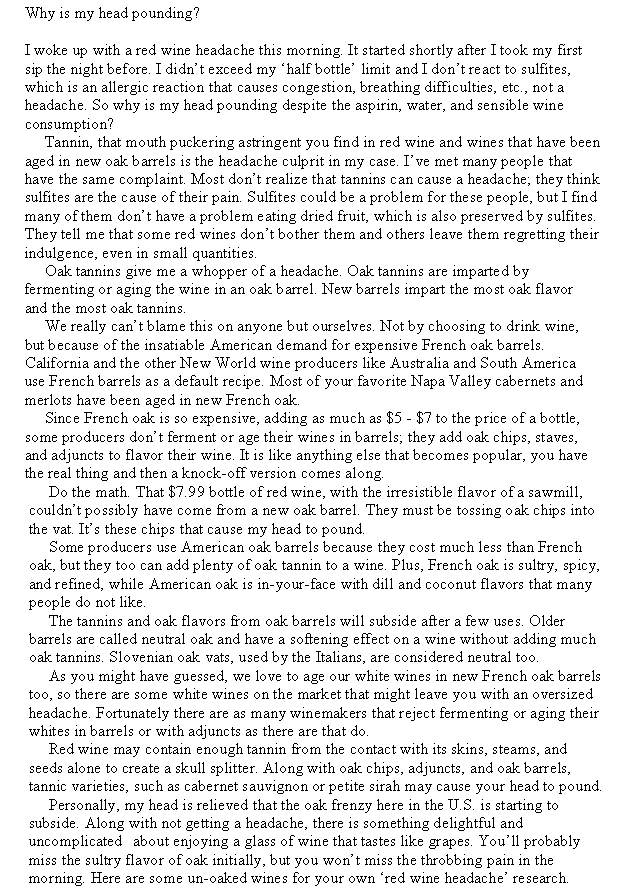 Dievole 2003 Pinochio Nero d'Avola $8 Italy,
Domaine 1998 Chauveau Chinon Cuvee Cabernet Franc $20 Loire Valley
Louis Latour 2003 Beaujolais Villages Chameroy Cru $10 France,
George Duboeuf 2003 Beaujolais Village $9 France,
George Duboeuf Brouilly Beaujolais $13,
George Duboeuf 2003 Julienas $11 (92 Robert Parker),
Vina Borja $7 Spain,
Cousiņo Macul $8 Chile, Cab, Merlot, and Chard (non-reserva),
Vina Rey Tempranillo $8 Spain,
Three Thieves Zinfandel $10 California,
Padlladio Chianti $10 Italy,
Domaine Royere $10 France,
Cotes du Luberon $12 France,
A few un-oaked whites:
Botramagno Gravina $10 Italy,
Yalumba Y Chardonany $10 Australia,
Tourraine - Sauvignon Blanc Mardon Pre Baron $12 France,
Healdsburg Chardonnay $8 California
Cesari 'Due Torre' Pinot Grigio $9 Italy
Crystal Valley Cellars Chardonnay $11 California Pieropan 2003 Soave Classico Superiore $17 Italy, Trevor Jones 2003 Virgin Chardonnay $17 Australia.
Articles are property of Brenda Francis and are not to be reproduced in any way without written consent from Brenda Francis. Why is my head pounding? I woke up with a red wine headache this morning. It started shortly after I took my first sip the night before. I didn't exceed my 'half bottle' limit and I don't react to sulfites, which is an allergic reaction that causes congestion, breathing difficulties, etc., not a headache. So why is my head pounding despite the aspirin, water, and sensible wine consumption? Tannin, that mouth puckering astringent you find in red wine and wines that have been aged in new oak barrels is the headache culprit in my case. I've met many people that have the same complaint. Most don't realize that tannins can cause a headache; they think sulfites are the cause of their pain. Sulfites could be a problem for these people, but I find many of them don't have a problem eating dried fruit, which is also preserved by sulfites. They tell me that some red wines don't bother them and others leave them regretting their indulgence, even in small quantities. Oak tannins give me a whopper of a headache. Oak tannins are imparted by fermenting or aging the wine in an oak barrel. New barrels impart the most oak flavor and the most oak tannins. We really can't blame this on anyone but ourselves. Not by choosing to drink wine, but because of the insatiable American demand for expensive French oak barrels. California and the other New World wine producers like Australia and South America use French barrels as a default recipe. Most of your favorite Napa Valley cabernets and merlots have been aged in new French oak. Since French oak is so expensive, adding as much as $5 - $7 to the price of a bottle, some producers don't ferment or age their wines in barrels; they add oak chips, staves, and adjuncts to flavor their wine. It is like anything else that becomes popular, you have the real thing and then a knock-off version comes along. Do the math. That $7.99 bottle of red wine, with the irresistible flavor of a sawmill, couldn't possibly have come from a new oak barrel. They must be tossing oak chips into the vat. It's these chips that cause my head to pound. Some producers use American oak barrels because they cost much less than French oak, but they too can add plenty of oak tannin to a wine. Plus, French oak is sultry, spicy, and refined, while American oak is in-your-face with dill and coconut flavors that many people do not like. The tannins and oak flavors from oak barrels will subside after a few uses. Older barrels are called neutral oak and have a softening effect on a wine without adding much oak tannins. Slovenian oak vats, used by the Italians, are considered neutral too. As you might have guessed, we love to age our white wines in new French oak barrels too, so there are some white wines on the market that might leave you with an oversized headache. Fortunately there are as many winemakers that reject fermenting or aging their whites in barrels or with adjuncts as there are that do. Red wine may contain enough tannin from the contact with its skins, steams, and seeds alone to create a skull splitter. Along with oak chips, adjuncts, and oak barrels, tannic varieties, such as cabernet sauvignon or petite sirah may cause your head to pound. Personally, my head is relieved that the oak frenzy here in the U.S. is starting to subside. Along with not getting a headache, there is something delightful and uncomplicateda about enjoying a glass of wine that tastes like grapes. You'll probably miss the sultry flavor of oak initially, but you won't miss the throbbing pain in the morning. Here are some un-oaked wines for your own 'red wine headache' research.